The University of Manitoba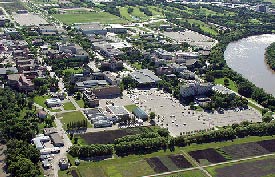 About The University of Manitoba
The University of Manitoba, in Winnipeg, Canada, is the largest university in the province of Manitoba, and its most comprehensive and only research-intensive post-secondary educational institution. The main Fort Garry campus is a complex on the Red River in south Winnipeg. It has an area of 2.74 square kilometres. More than 60 major buildings support the teaching and research programs of the university. In addition, SmartPark is the location of seven buildings leased to research and development programs involving university-industry partnerships.
The downtown Bannatyne campus of the University comprises a complex of ten buildings located west of the Health Sciences Centre between McDermot Avenue and Bannatyne Avenue in Central Winnipeg. This complex houses the medical and dental instructional units of the University. The Faculty of Dentistry, the Faculty of Medicine, the School of Medical Rehabilitation, and the School of Dental Hygiene are the major health sciences units located on this campus. The Faculty of Pharmacy building is under construction and expected to open in 2008 in the downtown campus.
The University of Manitoba offers several recreational programs year-round, including a well-established swimming program, adult classes and numerous summer programs for children. The university's Frank Kennedy Centre, Max Bell Centre, and Investor's Group Athletic Centre contain indoor tracks, a swimming pool, full work-out facilities, and an international ice hockey rink, as well as basketball, volleyball, squash and raquetball courts. Frank Kennedy Centre is also the host to large dance, combat and gymnastics rooms, and indoor tennis courts.